Podcast: Play in new window | Download
Subscribe: Apple Podcasts | Google Podcasts | Stitcher | Email | RSS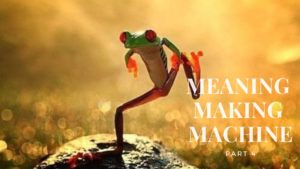 045 – Meaning Making Machine (Playground)
Maybe there's only one course you cneed to do increase your happiness by 60%.
Beconing a human BEING.
Sophie is different to Landmark- she only teaches what you really need.
More about the Playground and of course there are 3 earlier episodes to listen to and the full audio to order!
This episode is part of a series of 4. They were extracted from a 90 minute conversation. If you would like to ehar the full audio, visit this article: Get outside the nine dots for a subscription link.
Scroll down to
Claim Your Free audio: "60% increase in happiness"
Enter your name and best email and Sophie will send you a copy.  There is the 90 minute version and a slightly shorter version just under an hour with the pauses and 'ums' trimmed out.