Podcast: Play in new window | Download
Subscribe: Apple Podcasts | Google Podcasts | Stitcher | Email | RSS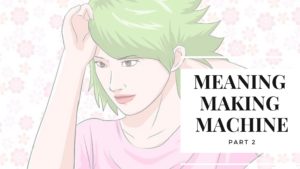 043 – Meaning Making Machine (Wigs!)
Meanings are like wigs. In this second part, Sophie explains Try It On, a phrase used in Landmark.
When you loosen the connection between meanings and the 'thing' your life can be glorious.
Did you do an earlier version of the Playground and wonder why the heck you should do V3 (for guys) or v4 (for gals)?
(Were you lke me thinking, Oho,  all I do is change the meaning to the opposite, yeah job done…tick. What's next on my self-improvement list?!!?)
Or maybe you've never done the Playground and wonder why Sophie is writing and talking about it …
Or maybe you spent a whole hour on the story/facts technology in the six month Landmark course…
This episode is part of a series of 4. They were extracted from a 90 minute conversation. If you would like to ehar the full audio, visit this article: Get outside the nine dots for a subscription link.
Scroll down to
Claim Your Free audio: "60% increase in happiness"
Enter your name and best email and Sophie will send you a copy.  There is the 90 minute version and a slightly shorter version just under an hour with the pauses and 'ums' trimmed out.